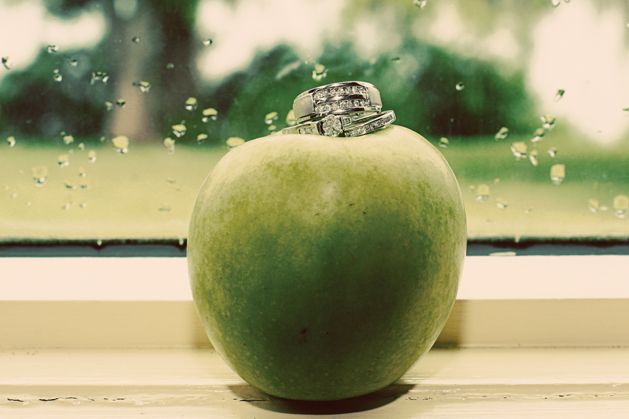 by Brandi Broxson
PLEASE BE SEEDED
Choose a stationer who specializes in invitations and seating cards made from recycled paper and printed with soy ink. Opt for stationery with embedded wildflower seeds. Planted in soil, the seeds in the paper sprout wildflowers. Visit poshbetty.com for eco-friendly stationery.
ALL IN ONE
Save your guests some gas and have the ceremony and reception at the same venue. Pick an outdoor location where guests can take in nature's beauty throughout the day.
NATURAL SPIRITS
For the cocktail hour, request organic wine and beer. Organic wine and beers are crafted without the harsh use of fungicides and synthetic fertilizers. Organic wines can be found at Whole Foods Market (wholefoodsmarket.com), and Orlando Brewing (orlandobrewing.com) makes organic beer on site.
LOCAL BLOOMS
Pick flowers and ornamentals that are grown locally, saving you money on shipping costs while also reducing fuel use and emissions associated with transportation.
RECYCLED JEWELRY
Greenkarat.com specializes in making jewelry using recycled gold and platinum and socially responsible diamonds and gems.
SAVE FACE
Hire a makeup artist who uses organic makeup. Kroma Makeup (kromamakeup.com) in Maitland offers mineral, botanical and organic cosmetics as well as makeup applications for your big day.
MIX UP THE MENU
Offer guests organic and vegetarian dishes along with the conventional reception menu items. Loving Hut (lovinghut.us/florida) of Orlando provides vegan catering that features appetizers, meals and desserts.
SOY JOY
Choose candles made with soy and natural-based oils rather than ones made from man-made chemicals like paraffin.Soy candles will last longer during the wedding and also produce less soot.
NIX DISPOSABLE TABLE ITEMS
Reduce waste by renting dinnerware and linens instead of using plastic and disposable items. BBJ linen (bbjlinen.com) in Orlando offers green rental options, including tablecloths made from recycled plastic bottles and chair ties, runners and full cloths made from synthetic burlap.
GIFTS OF CONSCIENCE
Create gift registries on eco-product sites like vivaterra.com and branchhome.com so your guests can purchase housewares and decorating items that are made—many by hand— from recycled materials or sustainable sources.
This article appears in the January 2011 issue of Orlando Magazine.
SOURCE